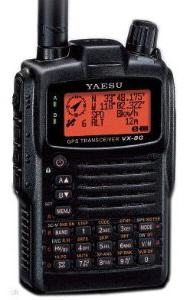 As a licensed amateur (ham) radio operator, I am always interested in the latest ham radio gadgets. When I saw this little handheld transceiver, I was instantly impressed with all of the features that Yaesu had managed to squeeze into such a tiny package. Its features include a
built-in GPS
,
APRS capability
(B band only) with Smart Beaconing™, CTCSS/DCS encoding and decoding, weather receiver with weather alert, high-resolution spectrum analyzer, and general coverage receive capabilities (108-999 MHz less cellular).
The VX-8GR dual-bander covers 2 meters and 440 MHz and receive coverage is 108-999 MHz (less cellular frequencies). Strong performance specifications are combined with intuitive operation. This unit has a built-in GPS unit right out of the box! It is not Bluetooth capable. It is, however, capable of CTCSS/DCS encoding and decoding.
The VX-8GR is supplied with the FNB-101LI 7.4V 1100 mAh Lithium ion battery, NC-86B charger, belt clip and SMA antenna. 2.4 x 3.7 x 1.1 inches (without knobs or antenna).