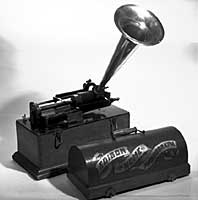 As I was pondering what the year 2011 has in store for all of us gadget freaks, I began to think about the past. I was wondering what the gadget scene was like way back in the year 1911. Most homes did not have electricity or telephone service. Computers had not been invented yet, unless you count Charles Babbage's Analytical Engine. There were certainly no iPhones, iPads, Droids or Slates back in those days of yore. What did the gadget freaks of that bygone era do to "scratch the gadget itch?"
Believe it or not, those people were surrounded by all kinds of "new" technology. By the year 1911, the moving picture (movie) industry was rapidly developing in Hollywood, New York, and elsewhere. Ordinary citizens could spend a nickel and watch a short silent movie through the viewfinder of a coin-operated machine. Dozens of movie theaters were scattered throughout the land. Detroit was mass-producing cars for anyone with the money to buy one. The airplane had been developed just eight years earlier. Commercial radio wasn't around in 1911, but ham radio operators were using spark-gap transmitters and simple receivers to talk to each other over the airwaves using Morse code.
(Note: KDKA, the first documented commercial radio station, didn't begin broadcasting from Pittsburgh until 1920.)
What about the music scene of 1911? Thomas Edison had invented his phonograph in 1877. It recorded sounds onto a cylinder which had been covered by a layer of tinfoil. Later on, the layer of tinfoil had been replaced by brown wax. By 1911, there were hundreds of songs and speeches available on these brown wax "Edison Cylinders." So, whatever became of all of those wax cylinders which contained so many historic audio recordings of that day? Many of them are still around, but they and the players used to play them are becoming harder to find.
This brings me to the focal point of this blog, "
The Cylinder Preservation and Digitization Project
" at the University of California at Santa Barbara. To date, this project has digitized over 8000 audio cylinder recordings made by Edison's company and others. You can browse the collection or do a detailed search of their cylinder archive. Each recording can be viewed on its own page where you can use the built-in Java audio player or you can choose to download the recording in MP3 or WAV format. I have listened to many of these recordings and have found them to be very interesting. Try it out and see for yourself by clicking
HERE
.
Here are some related website links:
Archive.ORG (78 RPMs and Cylinder Recordings)
Cylinder.DE
TinFoil.com
U.S. Library of Congress: The Motion Pictures and Sound Recordings of the Edison Companies
U.S. Library of Congress: Emile Berliner and the Birth of the Recording Industry
U.S. Library of Congress: Performing Arts (Music)